Games
Honolulu Party Games
Honolulu Party Games and Oahu Rentals, Hawaii Kids Carnival Games
Looking for Party rentals Honolulu?  We have a cool line of games to make your event a blast!   Baseball game rentals, basketball game rentals, skeeball game rentals, football toss game rentals, ring toss game, tic tac toe game, and more!
Delivery Rate Applies and Varies on Area 
Dunk Tank
Rental Rate: $300
ROCK CLIMB
$799 – 25L x 25W x 25H
HUGE!! 25′ TALL!!
INFLATABLE MOVIE SCREEN
$395
24L x 20H YOUR OWN
SUNSET ON THE BEACH!!
CARNIVAL GAME TENT
$399
42Lx17Wx14H: YOUR CARNIVAL THEMED EVENT CANT BE ANY MORE REAL WITH OUR INFLATABLE CARNIVAL TENT!!
INCLUDES 4 GAMES INCLUDED:
1)Ring Toss
2)The Shootout
3)Stop Light Challenge
4)Floating Balls Challenge
GAME DOME
$399
24Lx16Wx13H: THE GAME DOME!! HUGE!! YOUR OWN GAME CENTER AT YOUR EVENT INCLUDING 6 ACTIVITIES!!
1)BASKETBALL
2)BASEBALL
3)FOOTBALL
4)SOCCER
5)DART
6)FRISBEE
Baseball
Rental Rate: $179
Batters up! Crack that ball into Home Run!
Ball floats in mid-air!
Giant Ring Toss
Rental Rate: $129
The Ultimate Ring Toss! 8′ Tall. Use Hula Hoops
to score points and win your prize!
Basketball Challenge
Chair not included
Rental Rate: $149
2 Players challenge and shoot hoops!
Totally Awesome!
Basketball Challenge 2
Rental Rate: $169
2 Players challenge and shoot hoops!
Totally Awesome!
Tennis
Rental Rate: $179
Another Awesome Game! Hit the ball into the holes, challenge and see who gets it in the most!
Skeeball
Rental Rate: $179
One of the most popular from the arcades, you can now surprise everyone with this Honolulu party game! Take the color off of each hole you get the ball in. The first player to eliminate all colored holes wins!!
Football Toss
Rental Rate: $75
Football Toss: 7′ Tall, So Fun!
Stop Light Challenge
Rental Rate: $75
Stop Light Challenge
Aim to get 1 matching colored ball in each hole
Magic Ball
Rental Rate: $75
Floating Ball Challenge
By throwing a ball, knock off all 3 floating balls on the hats
Saloon Shootout
Rental Rate: $75
The Shoot Out
Aim to shoot the targets
Pencil Ring Toss
Rental Rate: $75
Ring Toss
Use rings to ring the Pencils
Roller Bowler
Rental Rate: $35
We all know this game from the arcades. Now you can have this Honolulu party game at your next event! Each player gets two tries to roll the ball down the track to see if they can get the ball to stay over the hump. If you can do this, you win!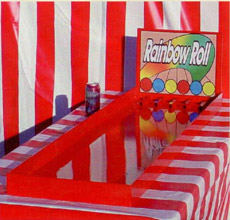 Rainbow Roll
Rental Rate: $35
Player rolls balls down game,
1 ball in each color wins!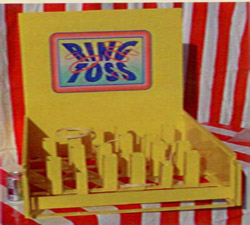 Ring Toss
Rental Rate: $35
Player gets three ring toss tries to make a ring.
You can even put prizes in each Ringer if you like!
Tic Tac Toe
Rental Rate: $30
Line up three balls in a row, wins!
Bean Bag Toss
Rental Rate : $35 (pair of 2)
City & County Park Permits
Contact: 768-3440
State of Hawaii Park Permits
Contact: 587-0300